TI-Presenter™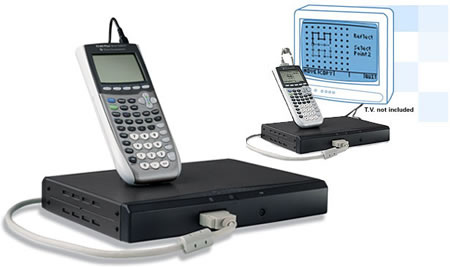 TI-Presenter™ Features Summary
WOW your students with the TI-Presenter™ video interface! Use your ViewScreen™ calculator* or student unit to connect the TI-Presenter into the video input of any conventional TV, VCR, or projector, and create an engaging learning environment.
Student versions of the TI-84 Plus family can be used with TI-Presenter and the TI ViewScreen panel using the appropriate Presentation Link™ adapter.
What's included in the TI-Presenter package
TI-Presenter
Interface cables for TI-82 ViewScreen panel and TI-92 ViewScreen panel
Owners Manual
Carrying case
Compare TI Presentation Tools
If you're not sure which presentation tool best fits your requirements, you can compare TI's presentation tools.
Want to learn how to use TI-Presenter?
FREE TI-Presenter Operating System Upgrade Version 1.32; March 29, 2000
Installation of version 1.32 is highly recommended if you are using the TI-Presenter and the TI-89 ViewScreen calculator.
Choose the TI-Presenter cable for your needs
The table below will help you choose which to use.
Cable Type 1:
TI-84 Plus Silver Edition
TI-83 Plus Silver Edition
TI-73 Explorer™
TI-82
TI-86
TI-84 Plus
TI-83 Plus
TI-83
TI-85
Cable Type 2:
TI-89 Titanium
TI-89
TI-92 Plus

Voyage™ 200
TI-92